TEAM AUDITION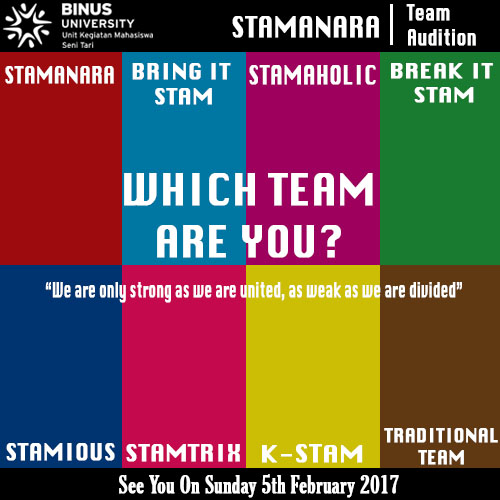 IT'S TIME, IT'S TIME, IT'S TIME
Have you been waiting for too long? It's no more, cause STAMANARA: TEAM AUDITION is coming right away!
 Sunday, 5th of February 2017
 Alam Sutera Main Campus (gedung A)
 9 am – finish
 BLACK
❌ No Reaudition❌
Please be ON TIME because Stamanara, Stamaholic, Bring It Stam, Break It Stam, Stamious, Stamtrix, Traditional Team and K-Stam are waiting for you. Yes, YOU!
And guess what? We CHALLENGE you to dance with one of these selected song. Give us your best shot & Godspeed guys!??
p.s. for the song (pick one based on your genre or your dream team!) :
-Audisi Tim Cewe (md cewe)
-Audisi Tim Cowo (md cowo)
-BBOY (untuk bboy)
-KPOP Cewe (pilih 1 dari 2)
-KPOP Cowo (pilih 1 dari 2)
-Tradisional bawa lagu sendiri dengan durasi 2 mins.
* khusus cewek boleh menarikan lagu kpop cowok, sebaliknya nggak.
Link download lagu :