BSSC Festival Re:Code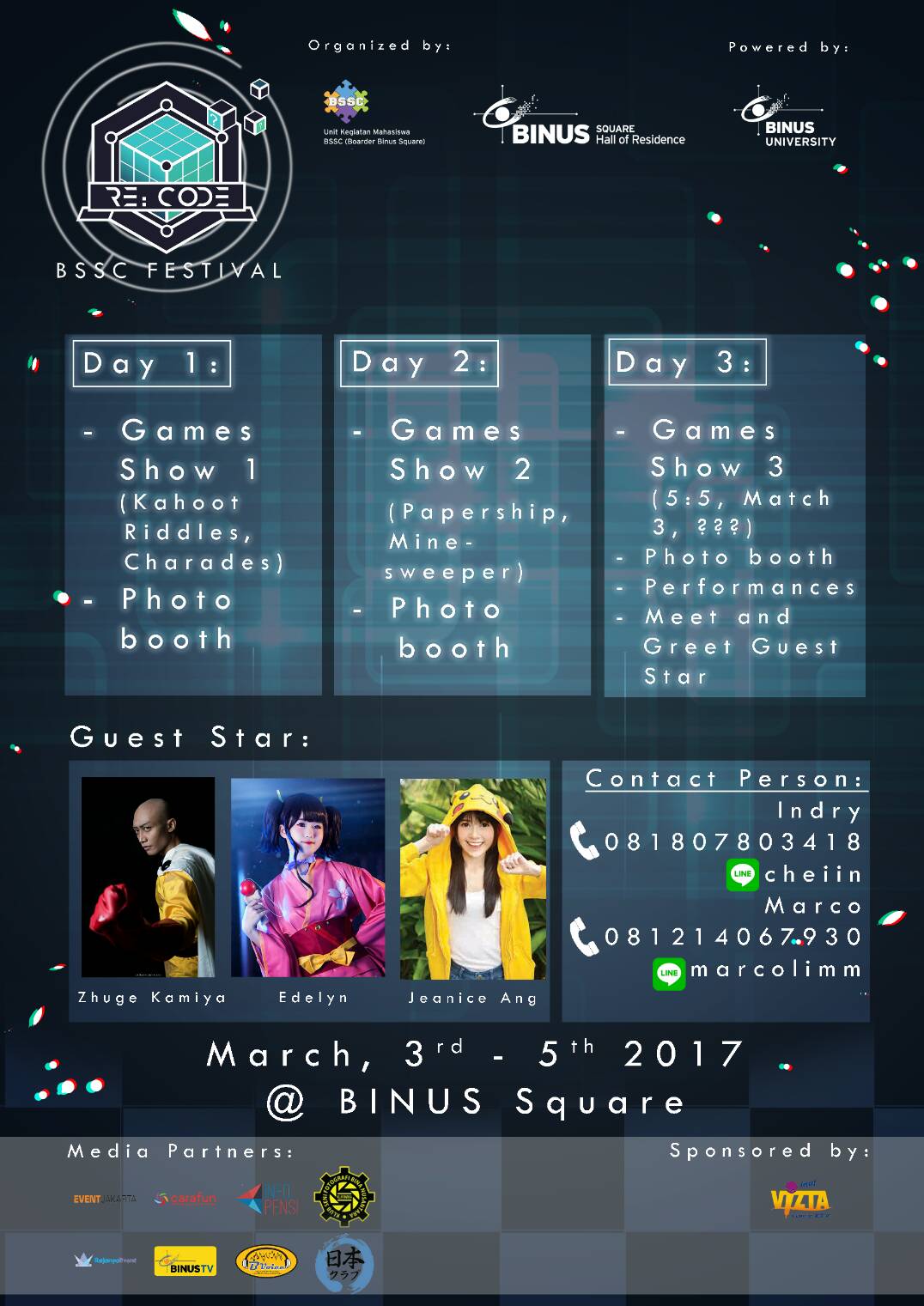 BSSC BINUS University presents:
BSSC Festival 2017 – Re:Code
On 3rd – 5th March, 2017
@BINUS Square
Jl. Budi Raya No. 21, Kebon Jeruk, Jakarta Barat
Do you like games show but you have nowhere to join?
Or do you like to dress up as your favorite character but no place to show it?
THIS IS YOUR CHANCE TO SHOW YOURSELF AND BE NUMBER ONE!
There will be lots of FUN activities such as:
– Games Show Competition (Rp 25.000 / person)
– Cosplay Competition (Rp 30.000 / team)
– Escape Room (Rp 25.000 / person)
– Photobooth (Rp 5.000 / pcs)
Join us and win the prize up to Rp 2.200.000!!
Don't miss special performances by STMANIS and NIPPON club!
Also, there will be FAMOUS COSPLAYERS as our guest stars:
– Jeanice Ang
– Edelyn
– Zhuge Kamiya
Guess what? Grab a chance to meet the guest stars in person and have a special photobooth session with them by only Rp 10.000!
Free entrance and opens for public!
Don't miss the HYPE and see you there guys!
Register yourself at:
22nd February – 2nd March 2017
BINUS Anggrek Campus (11 AM – 5 PM)
BINUS Square (5 PM – 9 PM)
For more information:
Indry (No : 081807803418 LINE : cheiin)
Marco (No : 081214067930 LINE : Marcolimm)
#BSSCFESTIVAL2017