CEO Speaks Robbyanto Budiman (Wahana Artha Group)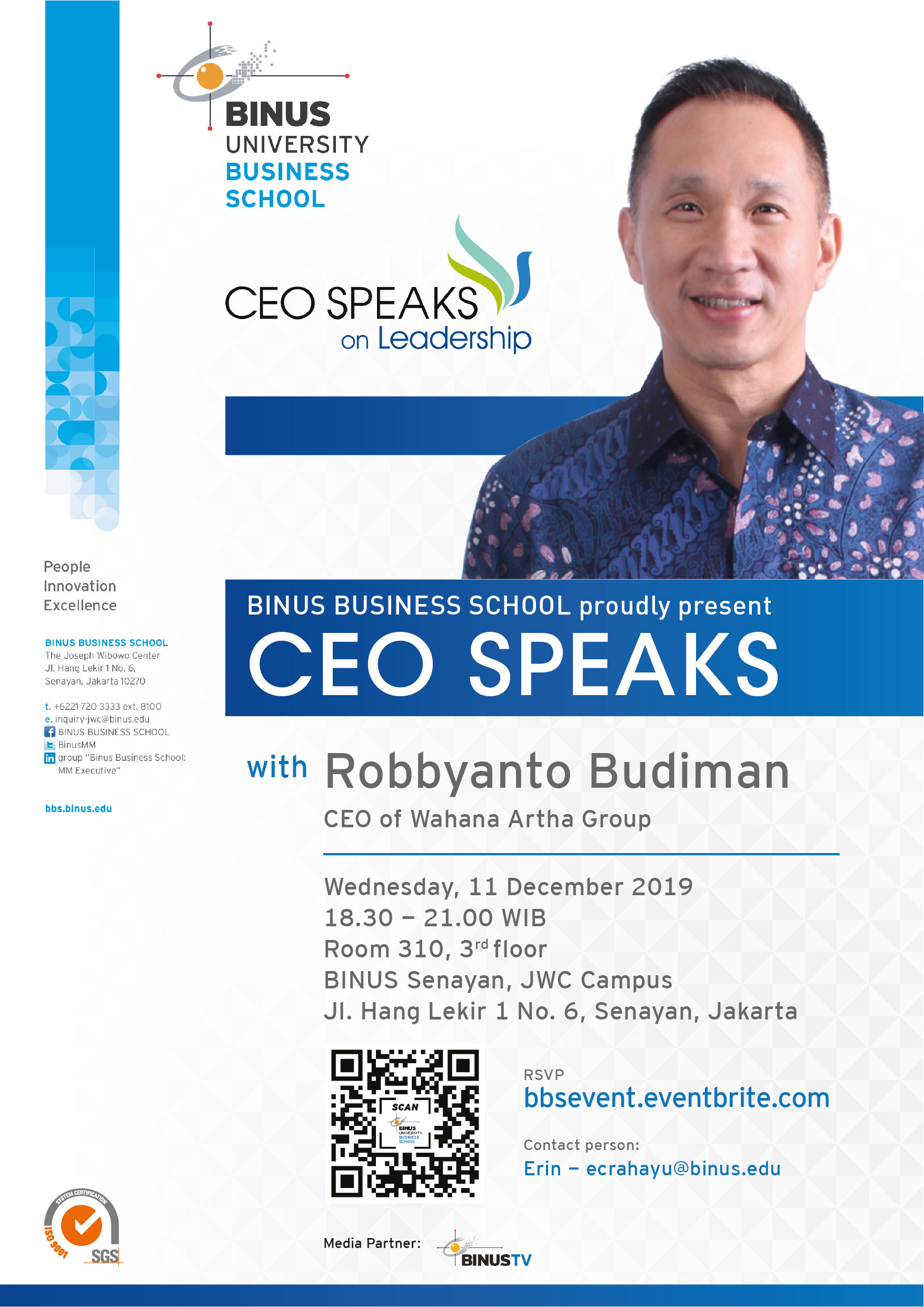 About Wahana Artha Group
Garibaldi (Boy) Thohir is the President Commissioner of Wahana Artha Group.
Boy Thohir is one of the richest people in Indonesia. He is also a co-owner of Adaro Energy with Edwin Soeryadjaya and TP Rachmat.
Erick Thohir is the younger brother of Boy Thohir. Their father is  H. Mohammad Teddy Thohir who was a  co-owner of Astra International with William Soeryadjaya.
Wahana Artha Group first started its business in 1972 as the regional distributor of Honda Motorcycles for Greater Jakarta Area. Over the years, the group has expanded to become one of the largest and most integrated motorcycle services group in Indonesia. Besides being the regional distributor, the group does motorcycles rental, trucking and logistic services, retail sales direct to customers, after sales services and parts, credit financing (WOM Finance) and customer retention management.
In 2011, Wahana Artha Group expanded into hospitality business by owning Amaris Hotel Padjajaran which is now one of the best performing hotels in Bogor city. As of now, eight hotels are operating. In 2013, the group also became the country franchise of KyoChon Chicken, the largest fried chicken operator in Korea. Currently, KyoChon has 8 stores and will expand across Indonesia.
These business expansion strategies fit the tagline of "Never Ending Passion" to ride on the huge growth of middle income market potential in Indonesia. With 250 million population, Indonesia is the 4th most dense country in the world and blessed with young productive demographic; 60% is aged 20 to 65 with 27% is below age 25. 74 million middle income class now would become 140 million by 2020. Wahana Artha wants to seize that opportunity by becoming one of the premier retail business groups in Indonesia.
Find out more here:
About Robbyanto Budiman
Born in Jakarta on Jan 14, 1967 and right after he graduated from American colleges, he immediately worked for Citibank NA Jakarta with the last position as Head of Asset Service Unit at Loans Department. He joined Wahana Artha Group in 1993 as the Managing Director until the Board chose him to be the Group CEO till now. He is responsible for all Group and Subsidiary operations. In his personal time, Robbyanto Budiman enjoys music, travelling and sports activities with his wife and three daughters. He is an avid marathoner.
Articles about Robbyanto Budiman
This event is FREE of charge and open for public. You can bring your friends to the CEO Speaks.
RSVP: bbsevent.eventbrite.com
More info :
Erin – ecrahayu@binus.edu