Millenials And The New Era Of Leadership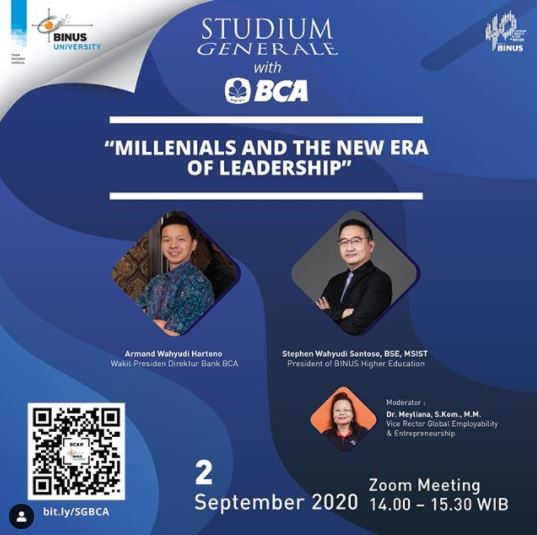 Generasi penerus menjadi tantangan tersendiri bagimana harus tumbuh. Hal tersebut mendorong adanya suatu diskusi dan pemaparan mengenai kepemimpinan generasi milenial mengingat keadaan dunia yang sudah jauh berubah dari keadaan sebelumnya. Perbedaan cara pandang dan cara bersikap antara generasi millenial dan generasi sebelumnya sangat signifikan berbeda begitu juga dengan gaya kepemimpinannya. Namun generasi milenial yang mempu memimpin semua generasi dan membuat loyalitas karyawan meningkat serta membuat suasana kerja yang nyaman dan menyenangkan membutuhkan kemampuan dan kepemimpinan yang baik. Bagaimana mereka yang millenial dapat sukses memimpin dan membuat perubahan yang menyenangkan di perusahaan, ikuti tip dan trik dari kedua pembicara yang mumpuni.
PBINUS UNIVERSITY bersama BCA menghadirkan Online Studium Generale yang akan membahas mengenai "Millenials And The New Era Of Leadership", dan akan menghadirkan:
– Armand Wahyudi Hartono – Wakil Presiden Direktur Bank BCA
– Stephen Wahyudi Santoso, BSE, MSIST – COO BINUS Group
Hari/Tanggal : Rabu, 2 September 2020
Aplikasi : Zoom Meeting
Link registrasi : bit.ly/SGBCA
Acara ini gratis! Dapatkan point SAT (Khusus BINUSIAN)
Daftarkan segera dirimu dan sampai bertemu pada acaranya ya!
#StudiumGenerale
#BINUSUniversity
#DitjenDikti
#PerguruanTinggi
#KampusMerdeka
#MerdekaBelajar